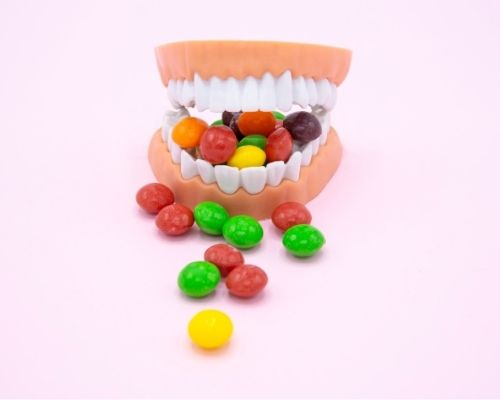 Watch What You Eat
The holiday season is here, and that means delicious meals, snacks, and goodies! It can be tempting to eat everything that comes your way, but you must be mindful of foods that can damage your dentures. Foods that can cause problems include hard, tough, or sticky foods such as brittle, caramel apples, and nuts. These foods can dislodge dentures and cause uneven chewing resulting in damage to them and potentially your gums. This doesn't mean you can't enjoy holiday foods. Choose your foods wisely and be mindful of how you bite into these delicious treats.
Store Your Dentures In A Safe Place
With the holiday season comes visits from family, friends, children, and pets. With little feet and paws running around, it is important to keep your dentures in a safe place when cleaning or not in use. Do not leave them on a nightstand or easy to reach areas. Keep them in a denture-friendly container, out of reach and sight of your young human and pet guests. Also, remember to use the same precautions that you would use with medicine to safeguard your cleaning tablets from the grasp of curious hands or paws.
Finally, a few reminders about denture care that apply during the holidays. Make sure to brush your dentures every night with Liquid Dial Soap using a soft-bristle toothbrush. Regular toothpaste and whitening products are too abrasive for your dentures and could cause damage to them. Taking care of your dentures does not have to be hard, even when you are out of your normal daily routine.